Implementing Upgrades with Assured Insulation Solutions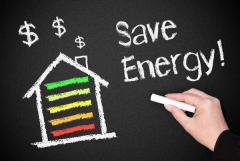 Making your home more energy efficient won't just help you save money on your bills, but it'll also turn your house into a more comfortable space for the whole family to enjoy. If your house is uncomfortable or you struggle with high energy bills month after month, it's time to take advantage of a no-cost energy audit from NIPSCO and Assured Insulation Solutions! Plus, receive a number of efficiency products on the spot for free as well.
Are You Eligible for a No-Cost Energy Assessment?
If your home is over five years old, you have an active NIPSCO residential account, and haven't had a utility sponsored energy audit in the last three years, you're eligible for a no-cost energy assessment.
What to Expect During Your NIPSCO Energy Audit
When you sign up for your no-cost audit, a professional auditor from Assured Insulation Solutions will come to your home to identify cost-effective, long-term energy saving opportunities to make your home more comfortable while helping you save money. The audit generally takes between one to two hours, where we'll analyze your home's current usage and discuss NIPSCO rebate offers.
During the energy audit, an expert from Assured will conduct an analysis of your home's HVAC systems, as well as installing a number of energy saving upgrades right away, free of charge!
These on-the-spot, no-cost, efficiency upgrades include:
LED light bulbs

Duct sealing

Energy efficient sink faucet aerators and showerheads

Water heat pipe wrap and furnace filter whistle

Programmable thermostat

Water heater set-back and pipe wrap

Furnace filter whistle
We'll also provide you with additional recommendations to make your home more energy efficient and comfortable. For example, air sealing out drafts and then installing additional insulation will improve comfort and increase energy savings. These solutions may reduce your energy bills by up to 30%!
Implementing Upgrades with Assured Insulation Solutions
By scheduling your no-cost energy audit and making improvements with help from the team at Assured Insulation Solutions, your Northern Indiana home will be more comfortable and energy efficient for years to come.
See what improvements could start saving you money on your energy bills!

Contact us or call 

   708.570.3260 to schedule your no-cost NIPSCO energy audit today.
How much energy & money are you losing out of your home?
Find out with a no cost energy audit from NIPSCO and Assured Insulation Solutions!
Frankfort Branch: 708.570.3260 | Decatur Branch: 309.807.9360