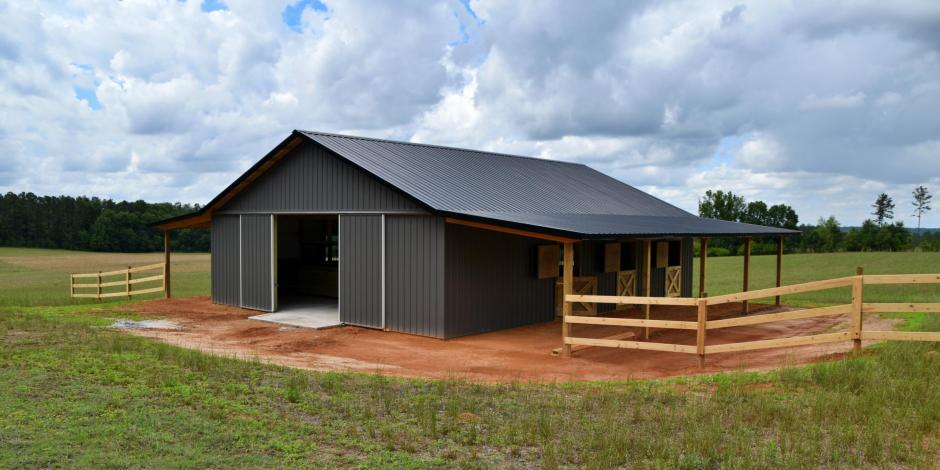 Regardless of what you use your pole barn for, if you have been inside your pole barn during all four seasons then you know that temperatures (and condensation levels) can fluctuate wildly inside. One month it feels like a hot sauna, complete with condensation on the walls,  and just a month or two later the inside temps have dropped below freezing.
If you are looking for a way to stabilize the temperatures in your pole barn here in Frankfort and Chicago Southland, the local experts at Assured Insulation want you to know a few things about how insulation can help. 
The Problem With Pole Barns
Pole Barns are simple to construct and relatively affordable, but the thin metal walls that are commonly used in pole barn construction do little to nothing to keep outside temperatures out.
Because a pole barn is an enclosed space, heat from the roof will collect inside in the summer, and in the wintertime, the heat will escape through the same thin metal walls. This back and forth makes long-term storage nearly impossible for anything that is temperature-sensitive and can create the perfect environment for mold growth when combined with high humidity levels. 
The hidden air holes and tiny gaps in a pole barn only make matters worse by allowing outside temperatures, contaminants, and moisture to infiltrate and accumulate further. 
The Fix: Insulate Your Pole Barn
Proper insulation is often overlooked in pole barns, and installing the right insulation for your pole barn will stabilize temperatures throughout the year, making for a better (and healthier) inside environment.
Insulation slows the transfer of heat between the inside and outside, meaning it keeps the heat in during the winter, and keeps the heat out during the summer. And with some high-performance insulation materials, like spray foam insulation, your pole barn will get the added benefit of air sealing and a more effective vapor barrier. 
Spray Foam Insulation Increases Structural Integrity
Spray-applied, closed-cell insulation is the only insulating material that has been proven to add structural integrity in a pole barn wall system, in some cases by up to 400%!
*according to testing conducted by the National Association of Home Builders (NAHB).
Take a look at what pole barn insulation looks like in this case study.
The Benefits of Pole Barn Insulation
With one upgrade to your pole barn, you can address multiple issues, including:
Temperature fluctuations 

Excess humidity

Some structural concerns
Assured Insulation Solutions has been helping Illinois homeowners improve the overall performance of their pole barns for over a decade, and have learned the ins and outs of successful pole barn insulation through experience, craftsmanship, and building science. We choose from the best insulation material available and rely on diagnostic equipment to maximize the effectiveness and efficiency of our installations.
Looking to fix the temperature fluctuations in your pole barn? Call Assured Insulation at 708-570-3260 to schedule pole barn insulation