For pole barn structure owners in Illinois and Indiana, inside temperatures can vary at an extreme rate throughout the day and night. Many pole buildings seem like tropical rain forests on the inside due to the buildup of condensation. This issue occurs as a result of extreme temperature differences between the inside and outside of the structure. The most effective ways to solve the problem is with insulation, which can dramatically affect both indoor comfort and the longevity of items stored within the pole barn.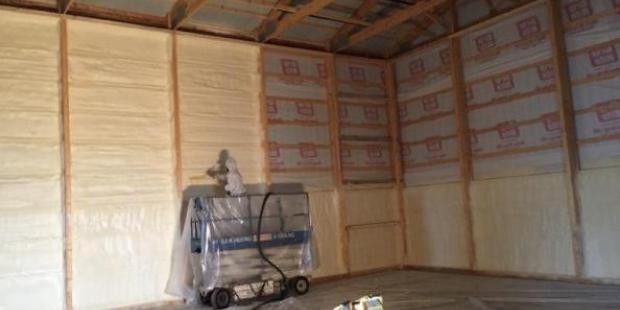 Issues with Pole Barns
Pole barns can be very useful structures, but they're not without their problems. Condensation can occur easily at any time of the year; sort of like leaving a cold beer outside on a hot day. This can create a buildup of moisture in the pole barn, which can lead to countless issues associated with mold and rot, putting items stored inside in jeopardy. Summers are difficult inside the pole barn, too, as the summer's hot rays hit the metal surface and transfer an immense amount of humidity and radiant heat to the inside of the structure. The winter has an opposite effect, as cold air hits the metal sheathing and turns the pole barn into a veritable refrigerator.
The Solution? High-Performance Insulation
Beefing up the insulation in a pole building, pole barn, or an agricultural building is one of the most effective ways to increase indoor comfort and temperature stability. It will not only make the space more hospitable, but it can increase the overall longevity of the building as well. Whether it be a new pole barn or a pole building retrofit, there are a number of options available that can help to increase inside comfort and ensure a drier environment for stored items. Assured Insulation Solutions offers spray foam and cellulose insulation solutions to pole barn owners.
Increase the Strength of the Pole Building
When wall cavities are sprayed with two inches of closed cell foam, the "Racking Strength" of that wall assembly increases by up to 800%. Racking strength is the ability of a square or rectangular wall to maintain its shape under duress. When closed cell foam is sprayed at a depth of 2" - 3" on the roof deck (the underside of the roof), the "wind uplift resistance" is increased by 300%. In fact, the only insulation material approved by FEMA to be used in areas designated as flood plains areas is closed cell foam.
Partnership With Cleary Building
Assured Insulation Solutions has started a partnership with pole barn and building manufacturing company Cleary Building Corp. to insulate pre-engineered structures. Read more about the partnership here!
Assured Insulation Solutions Can Help
At Assured Insulation Solutions, we have a deep understanding of the finer points of insulation and how important it is for keeping a pole building properly conditioned. We'll work with you to develop a plan that fits your needs and your budget. View some images from a recent project we completed, here and read a case study here. Contact us today to learn more or to schedule an appointment!
Insulate your pole barn with Assured Insulation Solutions.
Get in touch with us to learn more.