You may know your home has insulation, but is it enough for the extreme temperatures that the greater Chicago, IL area is known for? Not many homeowners realize that proper levels of insulation can keep your Illinois home more comfortable all year long. Even in the bitter, icy cold winters and hot and stuffy summers, the role of your insulation is to keep your home at the perfect temperature while protecting you from the uncomfortable outdoor air. It can even reduce your heating and cooling costs. In fact, as much as 20% of your energy bill can be saved by proper insulation! So how much insulation does your home need?
Insulation & Chicago's Climate
According to The American Society of Heating, Refrigerating and Air-Conditioning Engineers (ASHRAE), Chicago's building science climate is considered Climate Zone 5a. In other words, Chicago is cold and humid. True home comfort in this climate means controlling the heat inside your home, as well as any moisture infiltration from the outdoors.
The role of the insulation in your home is to prevent any transfer of heat through the materials that make up your walls, attic, crawlspace and floors. This works both ways: keeping the heat from your furnace and heating equipment inside in the winter, and keeping the hot summer temperatures and humidity out in the warmer months. The resistance capabilities of insulation are rated using an R-value — and the higher the R-value, the greater the resistance to that transfer of heat.
The following graphic presents the recommended R-values for climate zone 5: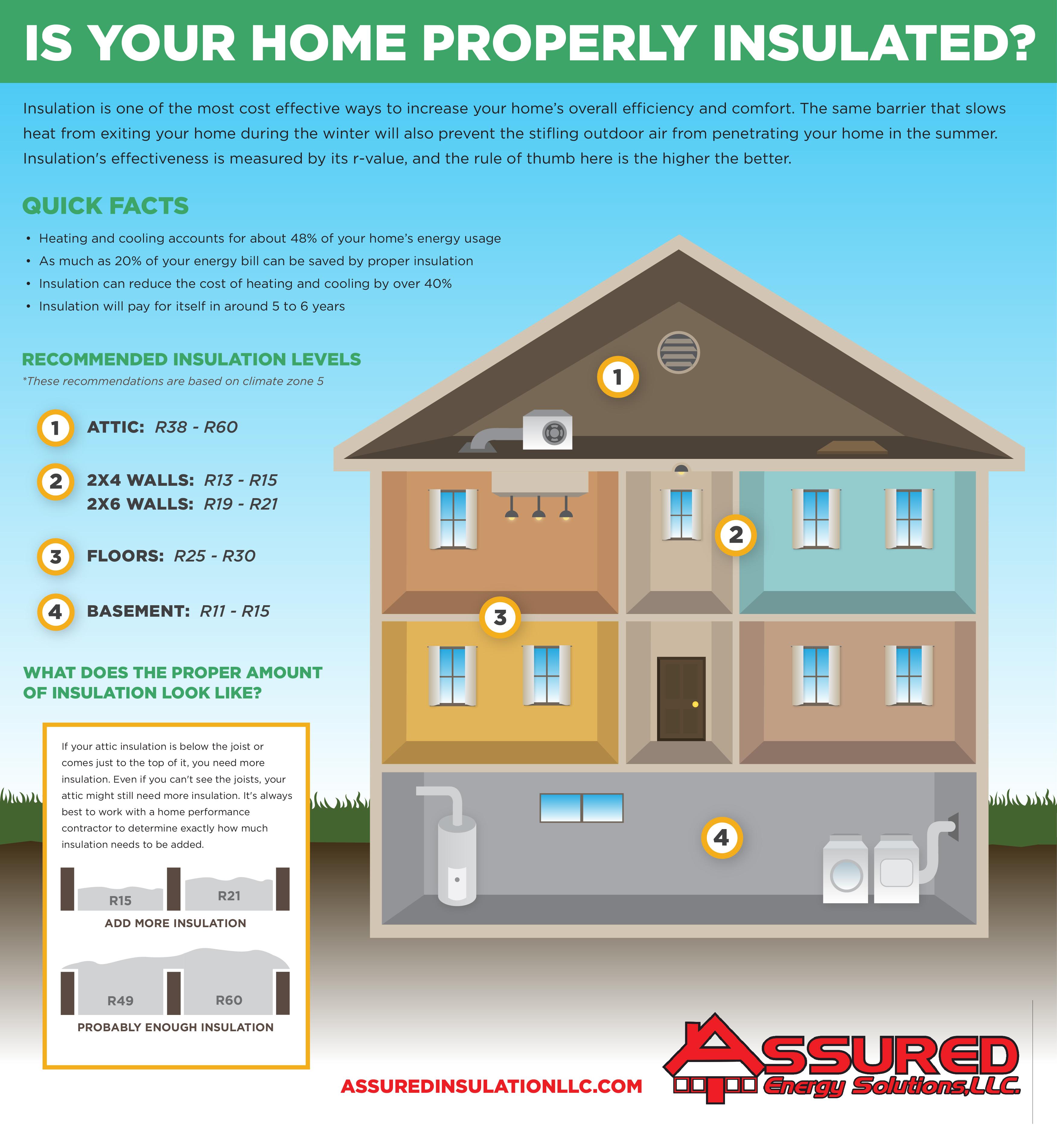 Understanding Your Current Insulation
So how do you know if your home is under insulated? You may be experiencing the following symptoms:
Indoor drafts

Inconsistent room to room temperatures

Unexpectedly high energy bills
There may also be some areas of your home that are under-insulated which you cannot detect with just your naked eye. This is where a professional diagnostic home assessment comes in, called an energy audit. Assured Insulation will use an infrared camera to find the areas in your walls, attic, and crawlspace where your insulation has deteriorated, or where there just isn't enough insulation to keep your home comfortable. We will also use a blower door test to determine if there are any air leaks in your home that are allowing additional outside air to infiltrate and undermine your indoor temperatures.
After your energy audit, we will remove your outdated insulation and prepare your home for the installation of your new insulation materials.
Rest Assured, We've Got Your Covered
From how much insulation to what type of insulation, Assured Insulation has got you covered from the attic down to the crawlspace. We professionally install the highest performance insulation materials, including environmentally friendly and effective cellulose insulation for year round home comfort here in Chicago Southland and Northwest Indiana. If you're concerned that your home may be under-insulated, don't waste another day in an uncomfortable and inefficient home!
Do you have enough insulation to battle the Illinois climate all year? Rest assured, with Assured Insulation. Call us at 708.570.3260 or contact us to schedule your energy audit.
Keep the harsh Illinois Climate outside, where it belongs.
Insulation is the key to comfort!