Many of the homes throughout the Chicagoland and Northern Indiana have been occupied for close to a century. Some of these houses have been retrofitted throughout the years to help keep the home and its occupants, healthy and happy. A common finding of a home energy audit is that attic insulation or basement insulation is in bad shape. It's often deteriorated, suffering from a host of issues including water damage and pollutants. The experts at Assured Insulation Solutions are trained in insulation removal and replacement and are here to make the process as seamless as possible.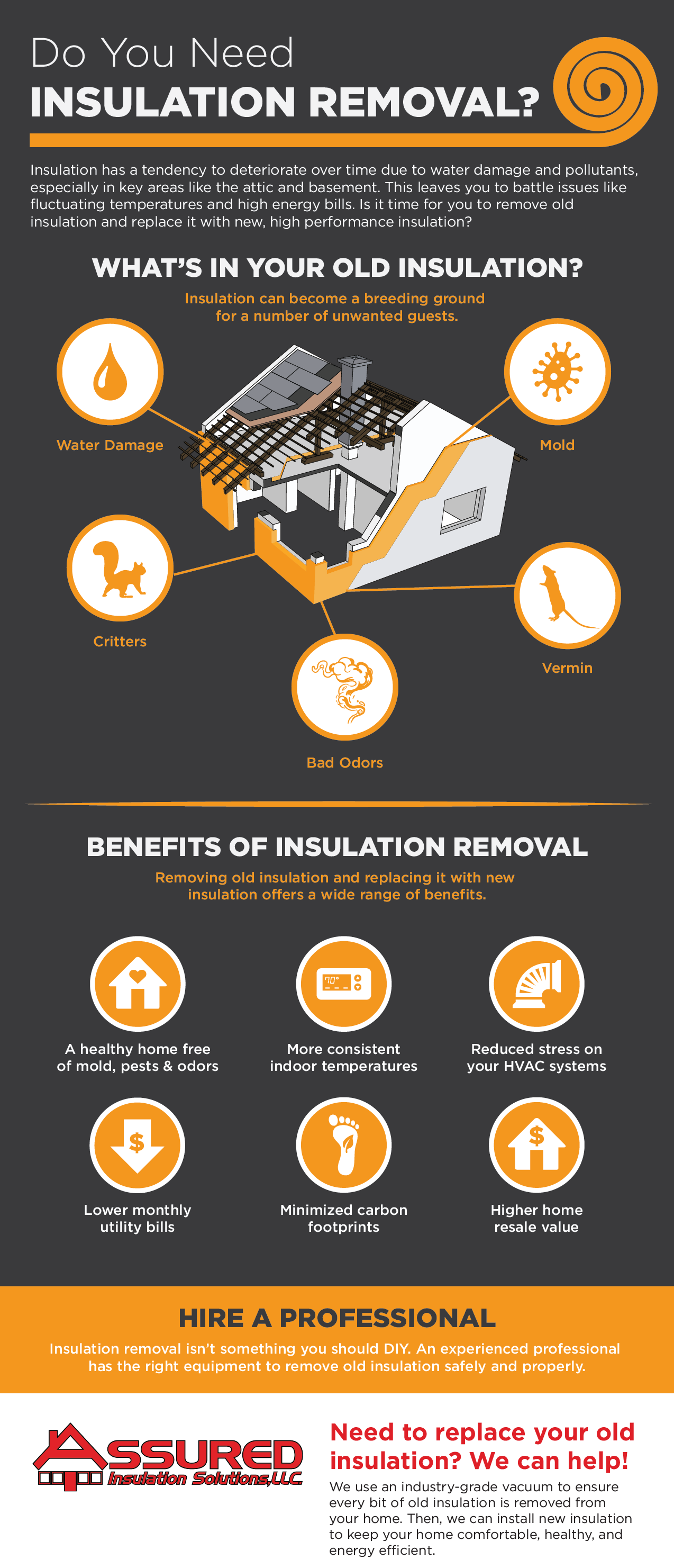 What's in My Old Insulation?
The fact of the matter is, the insulation in your attic or basement isn't meant to last forever. In many houses, insulation has been kept several decades past its intended lifespan. Just as is the case with food, this can make your insulation a breeding ground for some unwelcome guests such as:
Mold
Critters
Vermin
Bad odors
Water damage
The professional removal of aged out insulation will bolster indoor air quality by protecting you from these contaminants. Without professional insulation removal, your old insulation's mold and pest problems will grow exponentially.
Our Process
Insulation wears down over the years, and as it breaks down, its thermal resistance decreases. This adds up to a home that isn't providing you with the highest level of home comfort and costs you in unnecessarily high utility bills. Our team at Assured Insulation Solutions has a time-tested practice to remove your home's insulation.
We use an industry-grade vacuum, one of the most powerful available, to ensure every bit of outdated insulation is removed from your home. We use specialized bags to dispose of the old insulation in a dumpster, so you'll never have to worry about it blowing around your yard. Afterward, our team is ready to install new insulation to keep your home comfortable, energy efficient, and free from the multitude of problems outdated insulation can cause.
Benefits of Insulation Removal
The benefits of insulation removal and replacement are numerous, including:
A healthier home, free of uninvited mold, odors, and animals.
Less wear and tear on HVAC systems.
Lower monthly utility bills.
Lower carbon footprint.
Increased home resale value.
If you're worried about your indoor air quality or think it may be time for a home check-up, our team of friendly and certified experts is here to help!
Make sure your home's insulation is up to grade. Contact us to schedule an insulation check-up today!